Think Creative
Strahman Group Honored as Finalist for 2021 Kentico Xperience Site of the Year
October 12, 2022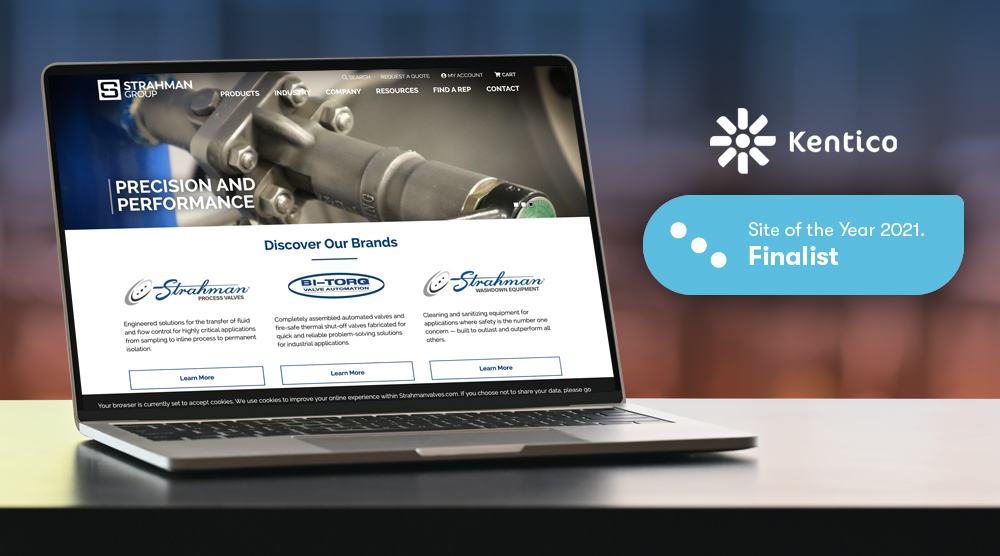 The Strahman Group was recently honored as a finalist for the prestigious 2021 Kentico Xperience Site of the Year, which identified the best websites built on the platform that deliver exceptional digital experiences.
For Strahman, this impressive achievement is the culmination of a process of vision, planning, and implementation as it worked with KSA&D to leverage Kentico Xperience to improve the overall site experience for all audiences, boost SEO, and to gain new marketing insights.
Mission accomplished: Strahman's website is a robust, engaging, nimble instrument through which it can serve its customers, gain key market insight, and evolve to remain on the industry's leading edge.
GOALS AND CHALLENGES
The overarching issue is common among organizations seeking to leverage their website as a sales, marketing, and business development tool. Strahman's existing site needed an update to make it more modern with a better UI/UX. However, as websites are fluid, evolve, and are unique to each organization, the challenges become distinctive.
Part of the challenge for Strahman and KSA&D was to create an experience that made it easy for users to navigate the website and find products quickly. Strahman also needed to incorporate the BI-TORQ product line, which was a recent acquisition. This posed another challenge: how to showcase three separate brands under one umbrella, while making it obvious to a user where to find what they were looking for.
WHY USE KENTICO XPERIENCE?
Strahman and KSA&D chose Kentico Xperience because the Kentico CMS platform offers rich out-of-the-box functionality, an extensive feature list, and incredible customization options for rapid website development. In addition:
Kentico's ASP.NET CMS is proven to integrate with almost any back-end system, providing flexibility across all digital channels.
The WCM solution lets Strahman deliver a consistent customer experience across multiple channels and devices.
Kentico's easy-to-use system and UX helps to free up time and resources so Strahman can accomplish more within its organization.
Kentico's Online Marketing solution allows for a fully integrated 360-degree view of Strahman's customers to personalize every experience.
With Web Analytics, Lead Scoring, and Kentico Marketer's Automation, Strahman can nurture leads, analyze customer data, and optimize campaigns directly from the platform.
Kentico's innovative Online Marketing solution allows for the right campaigns to be delivered to the right customer at the right time.
THE LOOK, FUNCTIONALITY OF THE NEW SITE
The look of Strahman's relaunched website is a clean, open, bold, and strong design with a modern and industrial feel. It strongly conveys Strahman's tagline—"Precision and Performance"—through the design. KSA&D wanted to showcase the quality, dependability, and high-performing industrial products Strahman builds to solve its customers' unique challenges. This was achieved with a strong color palette and engaging imagery.
KSA&D enhanced the user experience by making the site exciting and engaging. There was an emphasis on highlighting the products and industries served through eye-catching imagery. The main focus was on creating an experience to get the user to the products they are looking for quickly and effortlessly. Still, the site is comprehensive in scope, incorporating the BI-TORQ product line of 1,000+ products.
The new site provides equal display of product brands and allows users to search by market. It has new product landing pages, for SEO, and other SEO enhancements, including a blog feature.
On the back end, Strahman's site implements a new CMS and e-commerce solution, provides templates for promotional landing pages, and utilizes responsive templates for mobile and tablet optimization with customization.
In addition to an abandoned cart feature and the ease of SEO in Kentico, KSA&D has found the e-commerce reporting tool to be very helpful. This is reviewed on a monthly basis without having to connect to Google Analytics for e-commerce and keeping store reports in one place.
KSA&D integrated a UPS shipping option that pulls in the shipping data from UPS through their API. Future plans include KSA&D implementing persona mapping, lead scoring, and email marketing.
OUTCOMES:
Traffic is up nearly 40% since relaunch of the new site due to the SEO tool.
Over 70% of this site's traffic is attributed to Organic Search.
The abandoned cart feature has helped with sales and getting back in front of a buyer to move them along.
The new rep finder page allows for an easier user experience and easier updating. Page sessions have doubled.
The e-commerce platform makes it easy to update product information on the site quickly.
Strahman can edit other sections of the site, reducing its need to rely on outside resources when updates are required.
KSA&D was able to easily add a newly acquired company's 1000+ products seamlessly to an already robust product lineup.
It is very easy for KSA&D to manage, update, and edit the site, allowing for admin from any department to utilize the platform.
To see the results of this project, visit The Strahman Group's website at https://strahmanvalves.com/.
To find out more about how your organization can work with KSA&D to leverage the power of the Kentico Xperience platform and maximize your business, see https://ksand.com or call 610-797-7909.